Lane Neave is thrilled to celebrate the naming of resource management partner, Joshua Leckie in the inaugural NZ Lawyer Rising Stars'.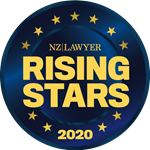 Rising Stars' honours up-and-comers in the legal profession who are committed to making a difference – not only within their own companies but to the profession.
NZ Lawyer says "Since becoming a partner at Lane Neave at the age of 32, Josh Leckie has continued to demonstrate effective leadership and achieve top level performance. That is true both within the firm and in his area of specialty, resource management.
In March 2019, Leckie was elected as a board member at Lane Neave, and in that role, he is collectively responsible for the governance and commercial success of the firm. In particular, he represents the partnership on the firm's IT Governance Group, which is responsible for strategising and executing digital innovation throughout the firm.
Professionally, Leckie continues to perform at the highest level in the resource management sector. He is particularly recognised for his specialist energy and mining practice, as lead resource management advisor to Bathurst Resources Ltd and BT Mining Ltd in relation to their New Zealand mining operations. Leckie is also the head of the firm's resource management team and is responsible for its existing practices in Christchurch and Queenstown and its expansions into the Auckland market.
Additionally, he mentors the junior staff as well as young future leaders outside the firm. This includes mentoring scholarship students through the Keystone Property Trust."
Click here for other General News articles.