Lane Neave is delighted to be able to announce that one of our newest Partners. Michelle Needham, has been named a 2022 Rising Star by NZ Lawyer.
Selected from a pool of high-quality nominees, the 2022 Rising Stars are all up-and-comers in the legal profession who are committed to making a difference – not only within their own firms, but to the profession in general.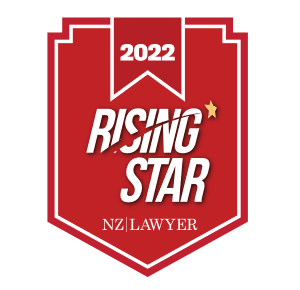 NZ Lawyer says of Michelle:
"The only solicitor to rise to the rank of partner in Lane Neave's most recent round of promotions, Michelle Needham's career as a commercial property specialist continues to reach new heights.
In her practice, she advises a range of clients from individuals through to large corporations on a variety of matters including property development and subdivision, conveyancing and succession planning. An aviation enthusiast, she is also a member of the Aviation Law Association of Australia and New Zealand.
While Michelle wasn't necessarily set on being a lawyer, things changed at university when she found herself enjoying the study of law. Immediately, she chose property law as an area of specialisation. "I have always been interested in land law and in particular, the different types of properties that people want to buy, whether it's their first home or a Central Otago vineyard or sheep station," she tells NZ Lawyer.
Buying a property can be challenging especially for those purchasing their first home, and she enjoys lending a hand to those who need advice on this end. "The best part is helping clients to successfully purchase their property and as a trusted advisor helping them navigate the buying process which can be quite daunting, especially for first home buyers, and involve a lot of emotion particularly if they have been unsuccessful at previous attempts to get an offer accepted," Michelle explains.
Being based in Queenstown provides "a huge variety of property work ranging from residential and rural property through to large-scale developments," she adds. "I was always interested in practicing law in Queenstown as it offers a great balance between lifestyle and work with the vast range of outdoor activities right on the doorstep, including my favourite hobbies of biking, flying and skiing," Michelle shares.
Nonetheless, the property law space in this area was not spared from the challenges of the COVID-19 pandemic. "The most significant challenge in the last year has been dealing with the ongoing uncertainty around the impacts of COVID-19, particularly in respect of Queenstown businesses and helping to guide clients through these difficult times," she said. She does see workplace flexibility as a positive effect of the pandemic and expects to see even more of the same this year, particularly with regard to working remotely.
Her achievements over the past couple of years have not only earned her a Rising Star distinction—at the 2021 NZ Law Awards, she was named among the Excellence Awardees in the category of Young Private Practice Lawyer of the Year (35 or under). As she steps into the partner role at Lane Neave this year, Needham cites "learning the ropes" as something she's looking forward to. "I am looking forward to this challenge and continuing to grow our practice in Queenstown and beyond," she says."
Click here to read about all 62 winners – and congratulations again to Michelle!