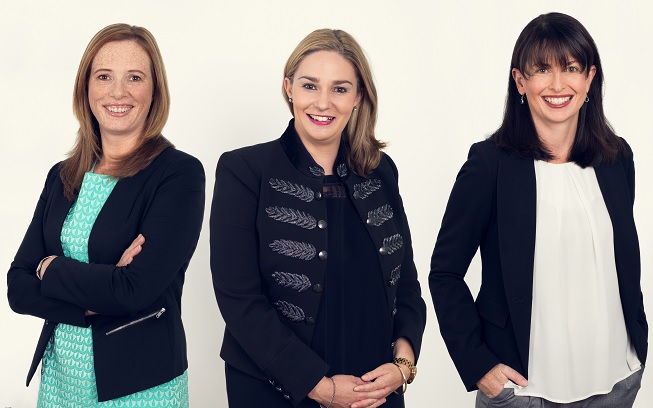 Lane Neave continues to grow as three senior associates are promoted to partner, bringing the number of partners throughout the law firm up to 22.
Lane Neave Managing Partner, Michael Wolfe, says the appointments reflect the firm's significant growth and the positive outlook Lane Neave has for the future.
"At Lane Neave we understand the importance of high quality customer services and that's why we have promoted three high performing lawyers who are dedicated to the success of our clients," said Wolfe.
"The new partners are all from different practice areas reflecting the strong demand for the wide range of service we deliver at Lane Neave.
"The firm is extremely proud to have three new partners of such a high calibre and would like to extend our warmest congratulations to them all."
Picture (left to right): Rachael Mason, Fiona McMillan and Rebecca Hopkins.
Rachael Mason – Immigration team
Rachael joined Lane Neave in 2013. She has practised exclusively in the area of immigration law for more than 14 years, in both the UK and New Zealand. Rachael's experience includes assisting high net worth private clients with complex immigration and citizenship applications, and supporting multi-national corporate clients and smaller local employers with managing their global and local migrant workforces and developing and maintaining compliance and legal right to work policies.
Fiona McMillan – Employment Law team
Fiona first joined Lane Neave in 2007 and has over 8 years experience with a diverse client base. As part of the Employment team, Fiona advises employers with all employment law related advice involving all processes from restructurings to disciplinary matters. Although Fiona is based in Auckland she works with clients in all parts of the country.
Rebecca Hopkins – Litigation team
Rebecca Hopkins has joined Lane Neave as a Senior Associate in 2014 and brings 16 years of professional service to the Lane Neave partnership. Rebecca specialises in commercial litigation and dispute resolution. She works with a broad range of experience and has acted for a wide range of clients including those in the agribusiness and commercial sectors as well as individuals and estates. Rebecca has also worked as a litigation solicitor in public law in the United Kingdom.