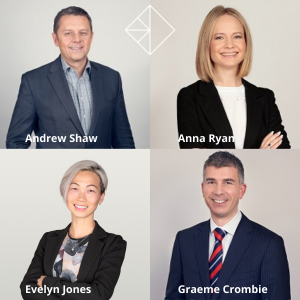 Four of Lane Neave's Partners have been recognised in The Best Lawyers in New Zealand 2023 Edition.
Andrew Shaw, Lane Neave's Managing Partner, and Anna Ryan, Corporate and Commercial Partner have both been recognised by their peers for the second time: Shaw in labour and employment law, and Ryan in intellectual property law.
Shaw has also been named 'Lawyer of the Year' in Labour and Employment law (Christchurch). In this category, Best Lawyers identifies just one lawyer in a specific practice area and location each year, based on "highest overall peer-feedback".
Corporate and Commercial Partners Evelyn Jones and Graeme Crombie have also been recognised in the 2023 edition, Jones for the third time in the banking and finance law category. Crombie has been a long-standing inductee in the information technology law category and has been recognised for the first time this year in privacy and data security law.
Shaw congratulated Ryan, Jones and Crombie, highlighting their experience and dedication.
"I am thrilled to be one of four Lane Neave Partners acknowledged for our work, by our peers. We are all committed to ensuring our clients get the outcomes they need, through the application of expertise and experience. For that to be recognised is wonderful," said Shaw.
This is the 14th edition of The Best Lawyers in New Zealand, which honours 598 lawyers within 72 practice areas – approximately 3.8% of all practicing lawyers in New Zealand.
Summary
Recognition details below:
Andrew Shaw – Recognised lawyer for Labour and Employment Law, and Lawyer of the Year 2023 (Christchurch)
Anna Ryan – Recognised lawyer for Intellectual Property Law
Evelyn Jones – Recognised lawyer for Banking and Finance Law
Graeme Crombie – Recognised lawyer for Information Technology Law, and Privacy and Data Security Law